Weddings
You have waited your entire life for your wedding day. You want everything to be perfect. The last thing you want going through your mind is, "Will the DJ be any good?"
We believe in developing a relationship with you. There is a lot of preparation that goes into a reception. We will be with you every step of the way. From ongoing communication to face-to-face meetings, every detail will be executed. We will set up a timeline and go over names of the people in the wedding, song list, etc. Not that it matters, but Chris Styles DJ's have provided memorable wedding moments for over ten years. We will ensure yours is done right.
Our DJ's will provide fun party atmospheres that will have the kids to the adults on the dance floor. From old-school to new-school, our DJ's have a large database of party favorites and a personality to match. Feel free to call or contact us.

Packages
A Wedding usually consists of about 4 hours of Music & Entertainment. Our Standard package is perfect for most receptions. This package normally allows for cocktail hour, dinner hour, and two hours of music. This package includes a DJ, sound system, and cordless mic. You may also add additional time to this package. Cost Varies on the DJ you select.
All packages include a preliminary consultation meeting where you meet one of our DJ's face-to-face to discuss all of the details for your reception. A small deposit of $300 can secure your date which is credited toward your total balance.
Thinking of something out of the box or have questions? We can help, feel free to call or contact us.
Lighting Extras
Uplighting: We offer uplighting to add around the reception room to add color and class.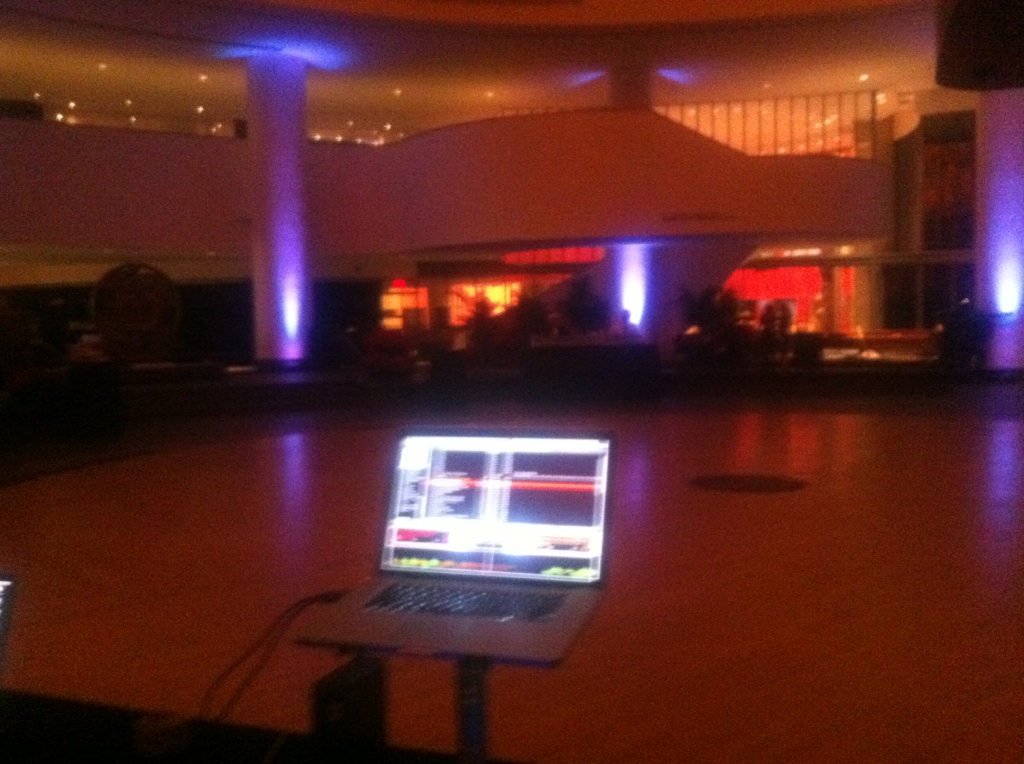 Dance floor lights with your name(Gobo Light) – We offer a Gobo Light so you can add your names and date to the dance floor.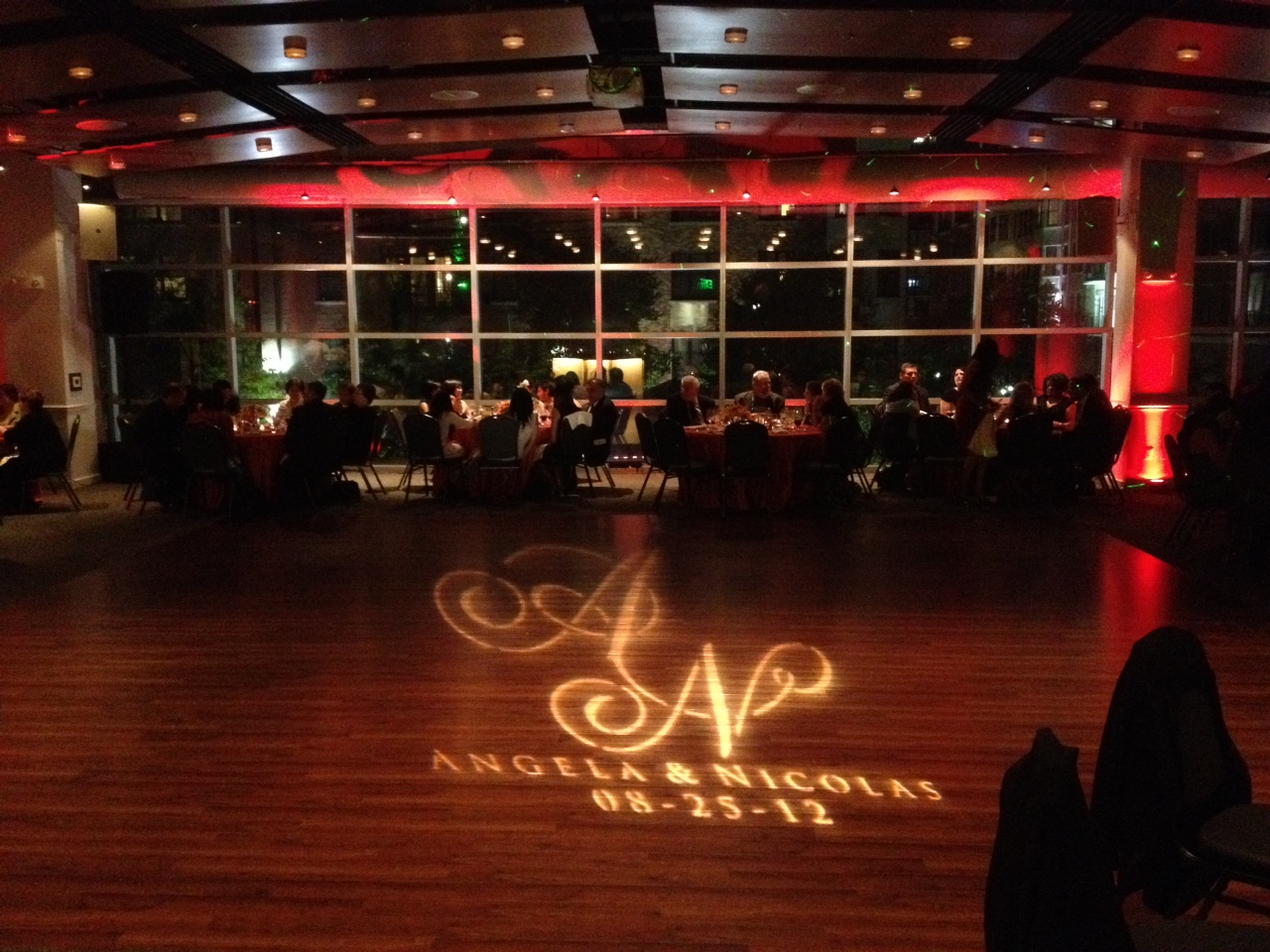 Reviews
"Dustin was a fantastic dj!!! Everyone loved him…he had everyone dancing.

" Cara Townsend June 2011
"Great job to Mike, an amazing, amazing DJ!"  Eric Karns, September 2011
"Hey Dustin! First I want to thank you again for everything! You were amazing at our wedding, everybody loved you!" Jessica Nicholson, September 2011
"Mike was absolutely awesome. People my age are all getting married and I had at least 8-10 different people come up to me and say this was the best DJ at any of the weddings they've been too. The only complaint was that "he played too many good songs", which really isn't a complaint at all. I would HIGHLY recommend Mike to anyone, and I thank for matching him up with my wedding." Matthew Heyne, September 2011
"The reception went great and Mike was fantastic. Everyone kept saying how great he was and the dance floor was packed the whole time." Zarema Arutyunova, October 2011
"Mike Krowe was amazing to work with as a DJ. I think the greatest compliment I could pay is that it never felt like we were paying him a vendor/services provider, etc…It felt more like a friend of the family pitching in to help out. From the moment he met with my wife and I, we just bounced ideas off each other on the music, how and where to enter, etc… He even passed the initial "test" my wife gave him when she asked what he thought "freestyle" was (the correct answer being the kind of 80′s music, not freestyle rap). He was always available for feedback and adding music to the play list. He came to house a few times and worked with our schedules. In working with him on the play list, even some harder to find songs got played that evening. We asked for song requests from our guests in the RSVPs and Mike did his best to accommodate everyone.
"Mike was on time to set up and even reacted on the fly and kept his poise when I gave him the WRONG song to play for one of the dances (totally my bad). Even though it was my mistake, Mike took ownership of it (class act). Our guests have paid many compliments to the reception and used the same word to summarize it: "fun". My wife and I both agreed that one of the main things we felt was important was the music. People don't give a damn about the place settings or the decorations. They remember if they had fun and if the food was good. Mike gave us the fun. I will gladly give my recommendation for Mike to any of my friends should they need a DJ for an event." Christopher Gorgon, May 2012
"From our first meeting with him, it was an awesome experience. We could not have asked for better. Personable, friendly and to be honest, from day one, I felt like he was family!"  Christina Polanco, May 2012
"Brian was amazing!!! He could not have done a better job.  Everything went perfect and people danced until we were kicked out!  We seriously could not have asked for a better DJ. Thanks for everything!"  Theresa Edwards, June 2012
"Mike was great, he played a good variety of music that kept everyone dancing all night and we heard nothing but good things from our friends and family about him.  He had good presence on the microphone, we could tell he had done many weddings before and he was a professional.  He was always available before the wedding through email, text, and phone calls we never had any trouble getting in touch with him about the song selections or timing of events.  Everything went off without a hitch and it made our lives easier knowing that we didn't have to worry about the DJ.  I thought that the price we paid for Mike was very good value for his services, at first we were looking to try and save some money on the DJ (first DJ we looked at cost $600) but once we read your brochure on your website we agreed that the DJ was a very integral part of the night and we weren't going to skimp on the DJ and sacrifice a good time for everyone.  We recently went to a wedding in Baltimore and the DJ had a hard time keeping people on the dance floor and looked like he couldn't find the right music so we were happy that we didn't face that during our wedding.  Hopefully Mike enjoyed playing for us, I know that we will definitely recommend him to our friends and family.  We've already had one family friend ask for Mike's contact information for a vow renewal.  The entire day was great from start to finish and Mike was a huge part of the day's success." Steven Blankenship, July 2012
"Chris Lier was great! The wedding went wonderfully well and we were just really happy with the whole experience!"  Nicholas Chauvenet, July 2012
"Nelson was fantastic! We loved him.  All of our guests raved about the music and the DJ.  We really appreciated his hard work in the preparations and during the wedding." Angela, August 2012
"OMG! Nelson was amazing.  Thank you so much for getting him lined up with my client.  He was a joy to work with and we will definitely be pushing Chris Styles DJs again…."  Jennifer A. Kaye
Managing Partner | Rooftop Events, LLC
"Brian, thank you for keeping the party going all night, everyone was having fun and the dance floor was packed until the end! Great job Brian!" Elena Hoyler, September, 2012
"Hey Chris, I wanted to take a moment and let you know how totally awesome Mike was for our wedding this past weekend!! Not only did we think he was great, but at least a dozen (and I am not exaggerating) of our guests raved about him. Some pointed out that he played great dinner music, the dance floor was always packed (not exaggerating there either), and they several ladies complimented his voice. We could not have asked for a better DJ to help us celebrate this occasion with us. He also helped provide great music suggestions and "entertainment" for the evening (I got lots of compliments on the "shoe game" which was Mike's idea)." Michelle Montoya, September 2012
"Mike did a great job with introductions and keeping people on the dance floor!"  Diana Davis, October 2012
"Dustin was really great to work with. When we had an idea he would run with it and also be there with plenty of others to work with…..we only wish we made the party last longer!"  Kaitlyn Hanley, November 2012
"Dustin, we had an amazingggg time last night thank you thank you thank you!!! Let us know if there is anything you need from us!!!" Kaitlyn and Art, November 2012
"I was highly satisfied with my experience. My wedding was unique in not only venue choice but requirements I was expecting from a DJ. ChrisStyles made the impossible all seem possible even when the task was large, and required a lot of effort from himself and his team. He made it a point to check in with me frequently to make sure my DJ was on point and responding to my needs and requests. Mike Krowe was friendly, like family, and made me feel as though I was truly hosting a wedding he was not just a DJ, but rather an invited guest. He was dressed to impressed, became part of the party. The team made sure whatever I needed was available and was quick to respond to needs/requests/demands. The best way to describe my experience was as soon as I walked down the aisle I wanted to call Chris Styles and scream, "he did it, and it was perfect!", as the DJ's executed song clips without a hitch that were not only a part of my ceremony but a highlight. I truly got a personalized DJ experience that met my high demanding needs, at a very reasonable price. I would be welcome to recommend them as a DJ service."  Melissa Oliver, November 2012
"Brian was awesome!!!!! Everyone loved him and was on the dance floor the entire time. He did awesome announcements and yet didn't do a lot of talking which was great. He played all our songs and got in some country at the perfect times. Literally best choice ever to use him! Thanks for all your help as well." - Brock and Kelly Linderman, December 2012
"Dustin was awesome! He was great from the beginning of the planning process to the day of the wedding. When I met with him to plan and time everything for the reception, he made sure everything was perfect for us and that everything was how we wanted it. He had great suggestions. After the meeting with him, I felt really good about the reception, and I knew he was going to make it awesome. And I have to say, he was even better than what we expected on the actual wedding day. He even got my mom and my grandmother to go on the dance floor and dance. So many guests came up to us to tell us how great he was.
Thank you so much Chris for recommending Dustin to us. He really made our day perfect!" - Jeannie and Greg, March 2013
"We were very happy that Michael was our DJ! He was amazing, we didn't want to stop dancing and we got so many complements on the DJ and everyone wanted to know who he was."
Rebecca Alarico – March, 2013
Recent Venues We Have Worked At:
Bolling Air Force Base – Washington, DC
Cherry Hill Park Conference Center – College Park, MD
Crown Plaza – Alexandria, VA
Crown Plaza – Arlington, VA
Crown Plaza – Rockville, MD
Drum Point Beach Club – Lusby, MD
Engineers Club – Baltimore, MD
Hay Adams Hotel – Washington, DC
Hilton Rockville – Rockville, MD
Lansdowne Resort – Lansdowne, VA
Manor Country Club – Rockville, MD
Marriott North Bethesda – Bethesda, MD
Marriott Waterfront – Annapolis, MD
Marriott Westfields – Chantilly, VA
Michael's Eighth Avenue – Glen Burnie, MD
National Museum of the Marine Corps – Triangle, VA
Nationals Park – Washington, DC
Omni Shoreham – Washington, DC
Outlands Plantation – Leesburg, VA
Renaissance Marriott Capital View Hotel – Arlington, VA
River's Edge Patuxent Center – River, MD
Rockville Rooftop – Rockville, MD
Rockwood Manor – Potomac, MD
Samuel Riggs IV Alumni Center – College Park, MD
Savage Mill – Savage, MD
The Tower Club – Vienna, VA
The Winery at Bull Run – Centreville, VA
Top Of The Town – Arlington, VA
Waterford at Fair Oaks – Fairfax, VA
Westin Annapolis – Annapolis, MD
W Hotel – Washington, DC